Dear Jane-Friends:

What an Austen-tastic 2020 it's been so far. It's almost enough to make a person temporarily forget about global warming, infectious diseases, and election interference. (Almost. I said almost.) Fortunately, there's also plenty of complex Regency and history-of-women territory to contemplate, so let's go there instead for a few minutes, shall we?

Welcome New Friends From Mount Dora Jane Austen Fest​!


It was great fun to celebrate Austen, women, work, and education at the inaugural Mount Dora Jane Austen Fest on February 8-9. Visionary organizer Margaret Andersen and the JASNA Orlando Region put together an amazing program, from JASNA President Liz Philosophos Cooper's fabulous talk on Jane Austen, Working Woman, to Regency fashion shows, to Florida sunsets and soirees. I gave a talk on my further adventures in The Making of Jane Austen, featuring new material that didn't make it into the book, on Austen and the law, queer Austen in Victorian performance, and debunked myths of Austen's lovers. Thank you to those of you who laughed in all the right places!

My favorite part of the weekend, though, may have been signing books at a sidewalk table outside a bookstore in Mount Dora, FL. It's a great town, an arts and festival hub, with cafés, bars, and restaurants and a lot of foot traffic on the streets. Almost immediately after I sat down, a stranger stopped to ask me, "Are you Jane Austen?" I laughed, said no, and explained. By the fourth time I was asked this question, however, I was just dying to answer, "Yes! Yes, I am." Alas, I informed them of her death, one pedestrian at a time.

Sanditon / Masterpiece PBS (with Spoilers): Sad Goodbye or Ha! Good Riddance?

I rewatched episode 8 of the Sanditon PBS series with my 80-year-old father, who only recently started to read Austen's fiction, because this is what his daughter does for a living. (Love you, Dad!). We watched Charlotte Heywood (Rose Williams) in the final scene, crying in the coach, and then the credits rolled. My dad turned to me, confused, and said, "That was the end?"

I think, rewatching it, I was even more struck by how cheated I felt at the finale turning Sidney Parker (Theo James)—seemingly on a path to be a hero in a Darcy/Knightley/Tilney mode—into a would-be Willoughby. And where was Georgiana Lambe (Crystal Clarke)? Why did they just write her out of episode 8, after her scary, contentless warning to Charlotte? How does that fit into some method to the madness for setting this up for a season 2 (probably never-to-be-made)? Georgiana Lambe is a great character. Clarke was great in this role. It made no sense!

Whatever your sense of Sanditon PBS, episodes 1-8, it absolutely doesn't have to be over yet. There are more than a few great hints in this series that you could follow up now. If you liked the character of medical man Dr. Fuchs, then read more about real-life Dr. James Graham. If you thought to yourself, "Did women really play cricket?" Why, yes. If you wondered, "Were the Sons of Africa a real thing?" Yes. No matter what, or what's next, I'm still incredibly grateful to have had all of this Regency and (loosely, very loosely) Austen-inspired material made for television.

Sanditon: The "What Should I Do Now?" Coda

So what's next for you? You could reread the original Sanditon text and think about what you would do to end the story better. My favorite edition is Janet Todd's from Fentum Press, with its meaty introductory essay (70+ pages) and impeccably edited text. You could also read one of the many print completions or read about the completions. Or check out this fun essay on Sanditon PBS's travesties against hair. If you love a good rabbit hole, look at this amazing site on recycled Regency costume spottings in film and TV, featuring a Sanditon PBS recycle.


I've been busy talking to the press about Sanditon, having worked on "A Guide to Jane Austen" for PBS Masterpiece itself (!) and serving as a quoted authority (love that phrase) in two news stories—one for the Associated Press, alongside actor Crystal Clarke, and one for The Daily Beast, "The Battle Over Jane Austen's Whiteness." Yes, of course, the latter has a clickbait headline. It's The Daily Beast, after all! But the reporter did a terrific job raising important questions and pulling together thoughtful Austen critics and Austen-inspired writers. In my view: It's not a battle. It's a long overdue and crucial conversation about race, literature, gender, and history. There's every reason to listen differently, engage further, and think critically. That's the sort of approach that's in keeping with the spirit of reading Austen's fiction, don't you think?

Calling All Austen Nerds! PBS Arizona Nerdcast Podcast

Finally, I hope you'll take a listen to this laughter-filled podcast conversation I had as the first guest on a fabulous new sho
w, PBS Arizona's Nerdcast. The host-producers put together two 30-minute episodes—one on Austen and Sanditon (with no PBS plot spoilers) and the other on the Sanditon PBS series and the issues it raises (with spoilers). Goodbye, Sanditon (for now), and Hello, Emma!

So, Seriously: You Must See the New Emma. Movie, Stat!

No spoilers here. I absolutely loved Autumn de Wilde's new Emma. I don't understand why early reviewers chose to use words like "routine" or "unambitious." What are they even talking about? Attempting to, and succeeding in, capturing the novel's tone for the big screen is the opposite of unambitious. Some critics also seem bent out of shape about the title's using a period. Hello! The original title page used a colon and a period. It's "Emma: A Novel." I wrote about Emma the novel in 2015 for LitHub, if you want a quick refresher on why the story's important and why it might (still) resonate today. The reviews are coming in heavy and positive this week. The box office is robust. Here's hoping it's going to be on a screen near you soon. I've got more on Emma thoughts to come. Stay tuned? I could say so much more, but "See it!" may be enough . . . Then tell me what you think.

Sister Novelists Update


I can't wait to bring you more of the work I'm doing on Sister Novelists, the biography I'm writing on Jane and Anna Maria Porter, to be published by Bloomsbury in 2021. They were the most famous sister-fiction-writers before the Brontës—household names in their own day, who unfairly dropped out of literary history. I'm now working on the chapter in which Jane and Maria are in their early 20s and getting pulled into the world of the London theatre, while secretly visiting the home of actor, novelist, and feminist Mary Robinson. They think she's a genius. She's a role model, helping them think through their own writing careers. But Robinson was also once the lover of the Prince of Wales and the mistress of other powerful men. The rest of the polite world has ostracized her. Jane and Maria's brother gives the sisters an ultimatum. Stop seeing Mrs. Robinson, or ruin your reputations. It's heartbreaking. Here's a video ASU made (and showed recently at the university's Founders' Day), talking about my work on them, alongside Austen and a little roller derby.

Daily Jane Austen in India and Happy Late Valentine's Day . . .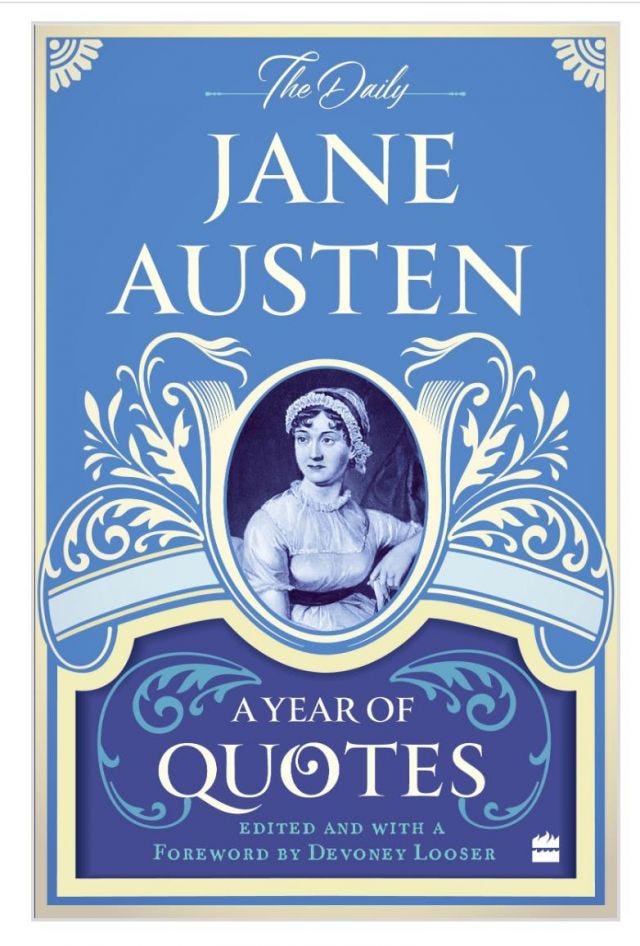 I'm excited to report that my collection of 378 genuine Austen quotations, The Daily Jane Austen (2019), has been republished by HarperCollins India, for sale in the Indian subcontinent. They designed a new cover for it, only for that edition. Isn't it gorgeous? If any of you who are in that part of the world see it out in the world, drop me a line. Or better, drop me a line and a photo.

Might you be able to stomach one more silly video before I sign off? Then here's three minutes of my husband and me telling our ridiculous love-at-first-sight courtship story from 1995. One of our teen sons said he started to watch the video, but it made him nauseous, so he quit. He reminds me of Sense and Sensibility's Mr. Palmer. He's so droll!

Until next time, your most humble and obedient servant,

Devoney

​P. S. Feel free to forward this to a friend who might enjoy a little Age of Austen fun. I'd be grateful. And drop me a line, if you notice any Janeite-somethings you think I ought to know about.

IF YOU LIKE TO REVIEW THINGS (MORE GRATEFULNESS!)
Rate/review The Daily Jane Austen on Amazon, Goodreads, or BookBub
Rate/review The Making of Jane Austen on Amazon, Goodreads, or BookBub

IF YOU LIKE TO FOLLOW THINGS (FUN CONTENT!)
Follow me on Facebook, Twitter, LinkedIn, or Instagram
Follow The Daily Jane Austen on Facebook, Twitter, or Instagram
Follow The Making of Jane Austen on Facebook, Twitter, or Instagram

UPCOMING EVENTS WITH DEVONEY (SEE YOU THERE?)
20 March 2020: Cambridge, England, Laurence Sterne / Sterneana Conference.
2-4 April 2020: Las Vegas, NV: Las Vegas Writers' Conference.