The Latest News from Devoney (November 2020)
Dear Jane-Friends:

It was great to see some of you at the JASNA AGM a few weeks ago. I got a chance to hold up some books by one of the keynoters and a favorite scholar, Juliet McMaster. The best kind of weightlifting!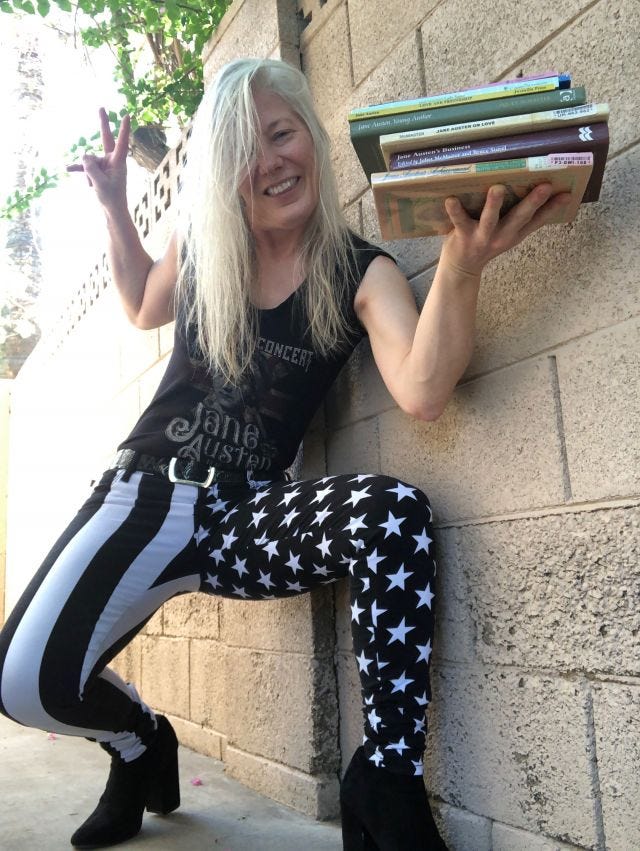 Happy Election Week to those in the USA. I hope you've voted? Greetings to those elsewhere, especially those on new lockdowns, who are sacrificing to keep pandemic numbers down, health care systems accessible, and the vulnerable safe. I hope all of you are finding ways to stay healthy, calm, and sane. I'm not sure I'm the best source on techniques for most of these things at the moment, honestly.

Last month, I somehow managed to break a tooth, requiring an emergency root canal. (I understand that dental vists for broken teeth are up sixfold, thanks to pandemic stress.) My best advice now is to remember the mock-wisdom of Sophia's dying words to Laura, in Austen's Love and Freindship: "Run mad as often as you chuse; but do not faint—." That one is so ridiculously macabre that it makes me laugh every time. Stress relief!

UPCOMING VIRTUAL AUSTEN EVENTS


There are some things coming up that I'm sure you're going to want to know about. The number of virtual Austen-related events on the November calendar is an embarrassment of riches, frankly.

Pride and Prejudice and Zoom: Saturday 11/7 (Sessions all afternoon (MST)! Free, with registration)
One I hope you'll check out is Pride & Prejudice & Zoom, a mini-conference being put on digitally by the Glendale Public Library. If you take a look at the line-up, I promise you that you will gasp with pleasure. I'm looking forward to moderating a session on Austen fandom and to being a part of a conversation (with my husband, also an Austen scholar) on The Daily Jane Austen: A Year of Quotes, about using Austen's words as an antidote to the crazy-difficult of 2020.

Words and Wisdom of Northanger Abbey Video, followed by live Q&A, with JASNA-NJ, Saturday, 11/14, 2 p.m. EST (Free, with registration)
If you missed it at the JASNA '19 Annual General Meeting, or if you want to see the video version and talk about it afterward with a great group of people, then please join me and JASNA-NJ on Saturday 11/14, for some conversation about Austen's amazing first (and last) book.

Other Amazing Austenesque and Booklovers' Things Coming Up
GOT YOUR DAILY DOSE OF JANE?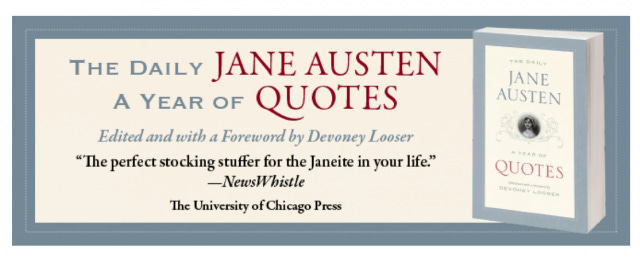 Speaking of Daily Jane! (Like that hamfisted segue?) The University of Chicago Press has a 20-percent off special for items in its fall 2020 catalogue, including The Daily Jane Austen. Here's what you need to do: Use promo code "AD1881" when you check out.

Four out of five apothecaries surveyed recommend this book for their patients who need a stocking stuffer. Can I do a humble brag, too? A friend of mine, who happens to be an Austen-family descendant, is reading the book daily now. I'm especially grateful when she drops me a line to tell me that she's found a particular quote helpful, uplifting, or funny. I'd love it if you felt motivated to help the book find more readers who might need it. (And there are now several other titles in the UCP "Daily" quote book series, all excellent.)

SISTER NOVELISTS UPDATE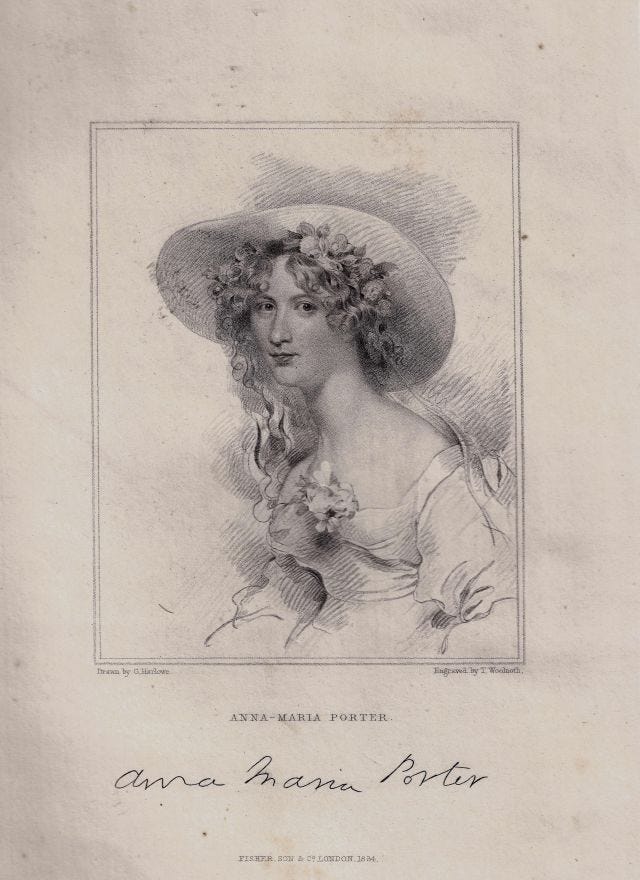 I'm continuing to work like mad (no fainting) on Sister Novelists, on Jane and Anna Maria Porter, in the Age of Austen, the most famous sister-authors before the Brontës. Today I'm revising a section from the 1810s in which now-famous-authoress Maria Porter is at a glam party, where her titled hostess admires her "shape"—her bosom—but questions its authenticity. The hostess says she thinks that Maria has "manufactured" her bust. Maria denies it. So her hostess actually *shoves her hands down the front of Maria's dress* to test whether her guest is telling the truth or lying. Guess what? She's telling the truth. It makes Austen's Lady Catherine de Bourgh look downright polite!

This is the kind of material I'm giving truthful shape to—the large and small things these sisters recorded from their remarkable lives, in their fascinating novels and letters. I can't wait for you to join me in learning more about the adventures of these amazing once-celebrated novelists. The book is slated to debut from Bloomsbury in fall 2021, at what we hope will be an in-person meeting in Chicago for the Jane Austen Society of North America, where I'm keynoting alongside the fabulous Gillian Dow, among others. Fingers crossed. But keep your hands to yourself! Hahahaha.

READ OR REVIEWED ANYTHING GREAT LATELY? TELL ME ABOUT IT!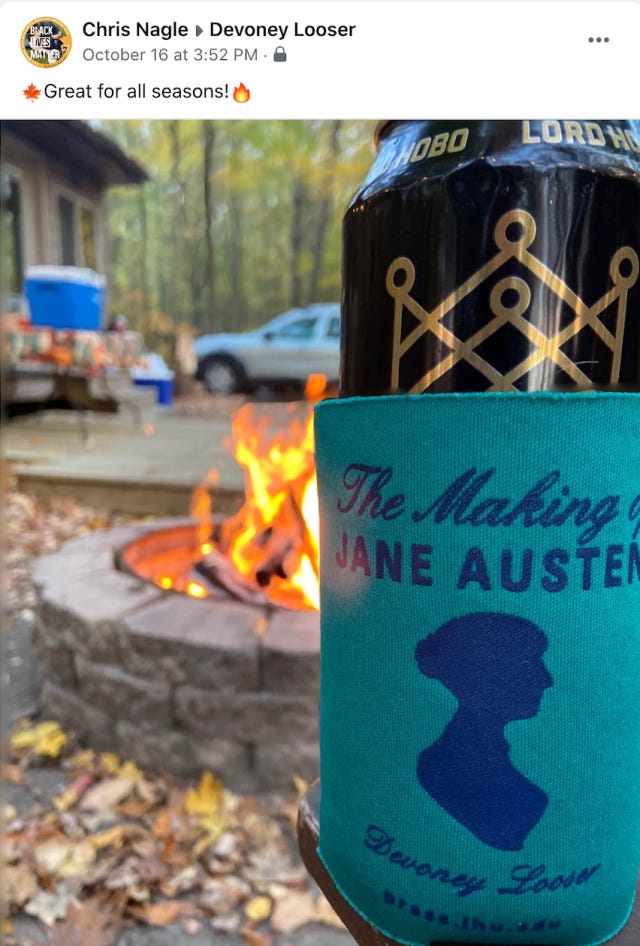 What are you reading these days? I'd love to hear your recommendations. I'm reading (for review) a biography of Mary Delany and learning so much about her life and times. . . I'm also just continually grateful to the colleagues and friends who take the time to review and support scholars and books. Thanks to Romantic Textualities for this generous assessment of The Making of Jane Austen ( http://www.romtext.org.uk/reviews/rt23_r11/) and to Professor Chris Nagle of Western Michigan University for sharing this beautiful photo, showing cool Austen things, in this often too blazing world.

Other things I'm recommending to view/read, if you haven't read them yet: New MacArthur Genius's Tressie McMillan Cottom's Thick. Moving and important. I can't wait to read whatever she does next, too.

If you want a short, classic read, then taken in the late Audre Lorde's incredible 1977 essay, "The Transformation of Silence into Language and Action." Or recommend it to a new reader, if it's already a favorite of yours. I make a point of re-reading periodically. I'm incredibly grateful to the college professor who first put this essay in front of me. It changed and shaped my life as much as Jane Austen's fiction did.

I look forward to being in touch again soon. If you know someone who might appreciate this newsletter, please forward it along? I feel very fortunate to be able to to stay in touch with our women's literary history, Austen-loving, book-loving community this way, especially while it remains so challenging to connect in person.

Your humble and obedient servant,
Devoney

P. S. As ever, if you have a moment, and are willing to do me and my books a solid, here's how you can give a shout-out. (And let me know if there are things you'd like help shouting-out to the world, too?)

IF YOU LIKE TO REVIEW THINGS
Rate/review The Daily Jane Austen on Amazon, Goodreads, or BookBub
Rate/review The Making of Jane Austen on Amazon, Goodreads, or BookBub

IF YOU LIKE TO FOLLOW THINGS
Follow me on Facebook, Twitter, LinkedIn, or Instagram
Follow The Daily Jane Austen on Facebook, Twitter, or Instagram
Follow The Making of Jane Austen on Facebook, Twitter, or Instagram

UPCOMING EVENTS WITH DEVONEY
7 November 2020: "Pride and Prejudice and Zoom" Festival (Glendale Public Library, online)
14 November 2020: Northanger Abbey prerecorded lecture and virtual Q&A (JASNA New Jersey, online)
8-10 April 2021: Las Vegas Writers Conference (Online meeting, TBA)
15-17 October 2021: "Jane Austen and the Arts," Jane Austen Society of North America Annual General Meeting, Chicago