The Latest News from Devoney (February 14, 2021)
Dear Jane-Friends:

Happy Valentine's Day! I hope you are somehow muddling through, finding strength and hope. I trust that your parents, and all of your sisters, are in good health, as Colin Firth's version of Mr. Darcy says to Elizabeth Bennet in the 1995 BBC P&P. (Those lines of dialogue aren't in the original Pride and Prejudice, as much as people today might want to put them there, along with a certain lake scene. In the novel, we're only told that Darcy made civil enquiries after her family.)

GREAT COURSES ON JANE AUSTEN? YES!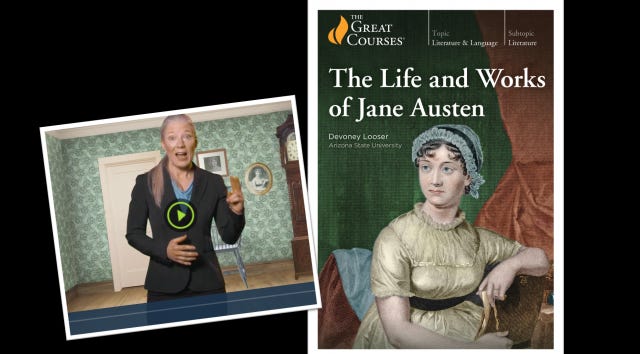 It's out now! I'm so excited to share that this pandemic-year labor is an available thing: The Great Courses has just released my 24 30-minute lessons on The Life and Works of Jane Austen. It's available in three ways—streaming, DVD, and on Audible. The DVD is on deep discount until February 25th. For those of you who are looking for it in your libraries, you might find it on Kanopy, Hoopla, or Recorded Books/RB Digital.

I'm looking for ways to get the word out. If you view or listen and like it, nothing would make me happier than if you were to post a review. And if you know someone who might enjoy it, please share this newsletter wit them? There will also be a Facebook Great Courses Literature Group: Jane Austen Reading & Analysis discussion group, starting March 1st. Join us there?

WANT A LITTLE AUSTEN ON VALENTINE'S DAY?


In our household, we're not doing much to celebrate Valentine's Day this year, beyond a neighborhood walk and chocolate, but it was fun to re-listen to this piece that ASU put together last year on "How to Stay in Love: ASU Couples Share Their Secrets." Of course Jane Austen makes an appearance! Hope you get a chance to celebrate all of the kinds of love in your life today and going forward. For those of you who don't have as much of it as you'd like right now, I hope the next year brings new connections and deepens previous ones.

I'm not sure that I'm going to bite this romcom bullet and watch it, but there's a Hallmark Channel movie, Playing Cupid, which debuted on Feb 13th. It's described as inspired by Austen's Emma, features a teen entrepreneur named "Cupid Clara" (Mia Quaranta De La Rosa) who attends Austen Middle School. Our household doesn't subscribe to any streaming services with Hallmark Channel, so if you watch it, tell me what you think? If you're curious enough to want a sneak peak, that's here. The Hallmark Channel had no new Austen-inspired movies at Christmas this year, to my knowledge. Maybe next Halloween we'll be treated to the Hallmark Northanger Abbey-inspired movie, Love and Laurentina's Skeleton? That one I would definitely subscribe to see. Someone pitch it to them for us!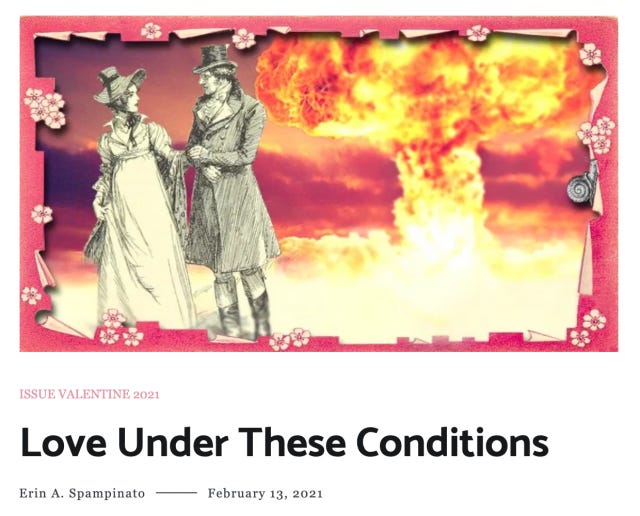 This weekend I also read and enjoyed Erin Spampinato's essay in The Rambling, "Love Under These Conditions," which talks about her experiences teaching Pride and Prejudice and unsuccessful (so far) academic job-seeking. It's a combination of memoir and criticism, about love and career, and it's a lovely, thought-provoking read.

RACE AND THE REGENCY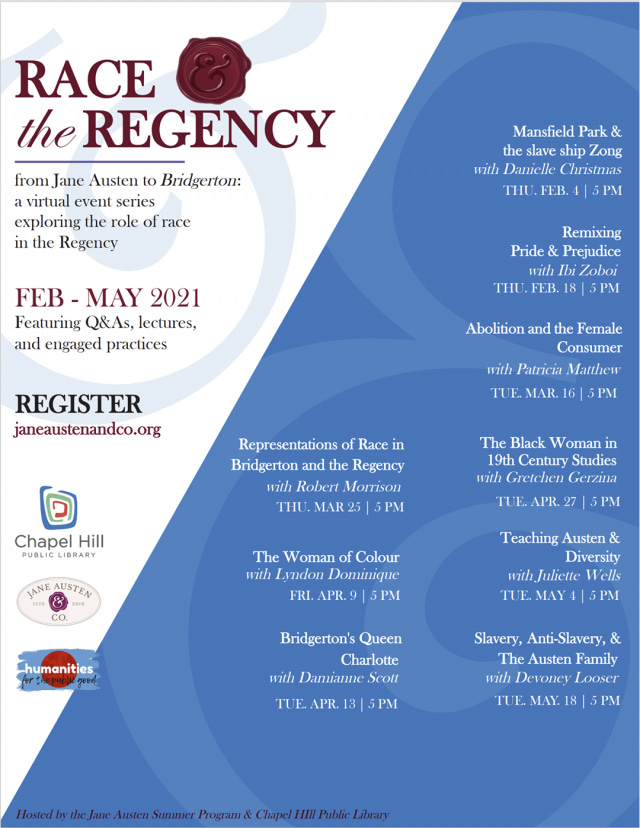 You've probably noticed that the pop culture Jane-train is speeding along these days, especially after the fabulous success of the Netflix Bridgerton, with its groundbreaking color-conscious casting. It's a vibrant moment for viewers and scholars to revisit pressing questions about race and ethnicity, both two centuries ago and today.

My favorite essay about that show is by Patricia Matthew (a friend whose work I've recommended before!) published in the fabulous Los Angeles Review of Books. There's also an excellent piece in the Washington Post about Queen Charlotte and race. And if you missed it last year, here's an important read on conversations about Austen and whiteness.

Then join me in signing up for all of the events in the virtual speaker series on Race and the Regency, organized by Jane Austen & Co. I'm speaking about slavery, anti-slavery, and the Austen family as part of that series on May 18th. Next up: Ibi Zoobi on Pride, her contemporary YA remix of Pride and Prejudice, on Feb. 18th. Have you attended any good Austen virtual events lately? If so, tell me about them! My upcoming talks are always listed here. Many of these events are free and open to the public.

GETTING A MEDAL, MUFFY'S HAND-ME-DOWNS, AND THANKING TEACHERS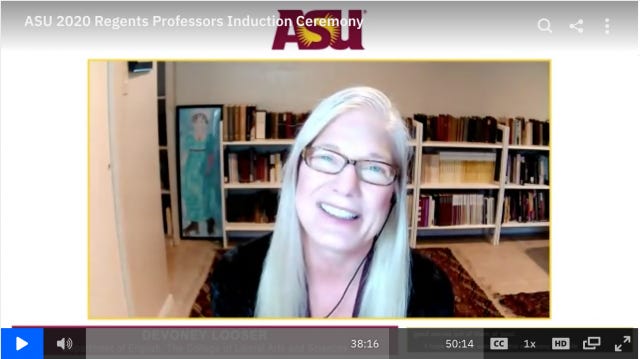 I recently got a lovely honor from Arizona State University. I was named a Regents Professor, which not only comes with a medal (which I was instructed to award to myself, pandemic-style) but with a published profile and the chance to thank people publicly. In the profile, I talk about growing up wearing the out-of-style but very expensive clothes of a girl called Muffy. Three generations of my family worked for Muffy's relatives as housecleaners and laundresses. I'm proud to be a first-generation college grad and to work to help students acclimate and succeed in higher education, especially those who might not have been raised in all of its ways and weirdness. As part of the video installation ceremony (starting at 29 min.), I got to thank formative teachers as well as the places that educated me. Send a letter or email and thank a teacher this week?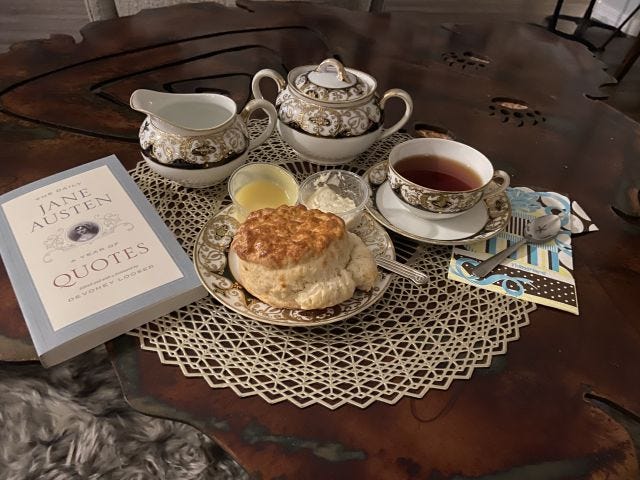 I'm grateful, too, to the kind Janeite friend who sent me this beautiful photo of The Daily Jane Austen in her daily pandemic life. Okay, maybe she doesn't do this tea service every day, but I wish our home life looked this good, even once! I can tell you that the mess around here is about trying to get my next book, Sister Novelists: Jane and Anna Maria Porter in the Age of Austen, out to you. Until next time, please stay in touch, in all the ways that you're able to or care to.
Your humble and obedient servant, Devoney  P.S. If you like to follow and review things, the links below are where you could give me a shout-out. Much appreciated, and I do like to return favors where I can!  

IF YOU LIKE TO REVIEW THINGS 

 Rate/review The Great Courses: Jane Austen on 

Amazon/Audible

, 

GC Plus

, or 

GC (DVD)

 Rate/review 

The Daily Jane Austen

 on 

Amazon

, 

Goodreads

, or 

BookBub

 Rate/review 

The Making of Jane Austen

 on 

Amazon

, 

Goodreads

, or 

BookBub

  

IF YOU LIKE TO FOLLOW THINGS 

 Follow me on 

Facebook

, 

Twitter

, 

LinkedIn

, or 

Instagram

 Follow 

The Daily Jane Austen

 on 

Facebook

, 

Twitter

, or 

Instagram

 Follow 

The Making of Jane Austen

 on 

Facebook

, 

Twitter

, or 

Instagram

 Join the 

Facebook Discussion Group 

for 

The Great Courses: Jane Austen