The Latest News from Devoney
Dear Jane-Friends:

Hello! I am writing to you today as if there is normalcy. I am pretending. Maybe you are reading this pretending, too? If so, hey there. Here we are!

Do you remember in fall 2016, when Garrison Keillor famously suggested in the Washington Post that people who weren't happy with the outcome of the US presidential election should just spend four years raising heirloom tomatoes, meditating, and reading Jane Austen? Well, whether he was joking or not, that advice turns out to be very wrong.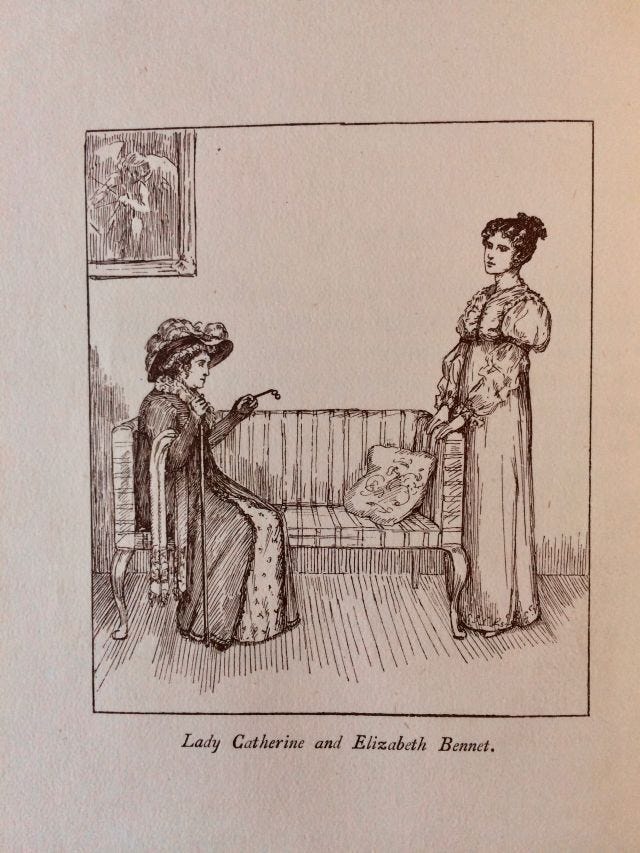 Those of us who read and love Austen's fiction—and history's other women novelists of her era—ought to resist thinking in this way right now, for many reasons. First, the tomatoes-meditation-Austen route isn't really possible for anybody, except the super rich. Today's Lady Catherine de Bourghs are already hiding out from coronavirus on their yachts or in bespoke bunkers or at well-stocked cabins in Idaho. The rest of us need to be good to each other. Austen is not our escape. She is our connector.

If you read and admire Austen, you probably appreciate strong women and fine writing. You likely value relationships, humor, social criticism, and happy endings. May all of those things continue with our new COVID-19 realities. With that wish in mind, here are a few ideas I'm sharing about getting through this. Let us not doubt, with Emma Woodhouse, whether we have transgressed the duty of woman by woman, or of human by human. Please send me more ideas. I'll collect and share them in the next newsletter.

Things to do to take care of yourself:
Things to do to take care of others, using your time, money, or both:
Things to do if you have extra time on your hands:
Things to read, listen to, and look forward to, related to Jane Austen: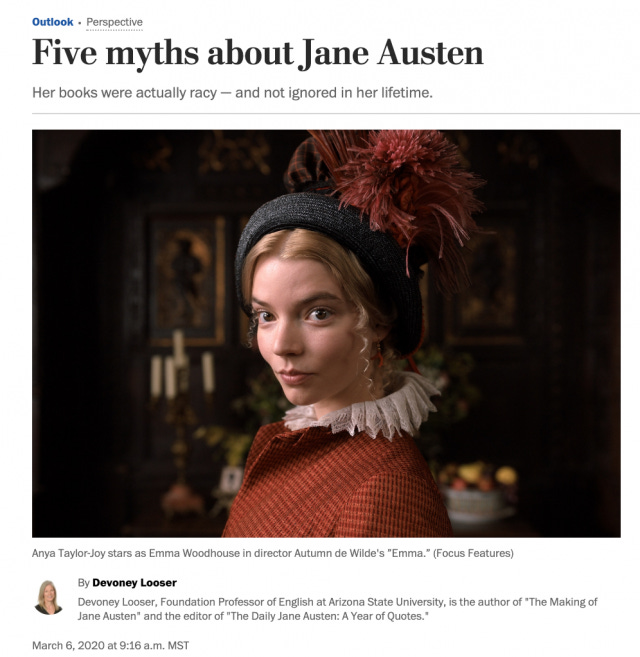 Finally, please take care, and practice social distancing, if you can? It's a great time to encourage others to share in our Regency-inspired appreciation for gloves! Those of us who can afford to engage in social distancing should, respecting the needs of those in high-risk categories. Like many of you, I live in a household with a loved one who is high risk. New data suggests that in the US four in ten adults may be at greater risk.

Social distancing helps us all if it turns out that the virus is spread asymptomatically. It will free up scarce hospital resources for those already infected and those whose jobs require them to risk infection. It is not fair. I am not pretending that any of this is fair. If you are one of those people who must be in harm's way to feed yourself or your family, or because your job requires it, thank you. I don't even really know how to thank you.

Your humble, obedient servant,
Devoney

P. S. And, as ever, the usual stuff, if you, like me, are sometimes going through the motions.

IF YOU LIKE TO REVIEW THINGS
Rate/review The Daily Jane Austen on Amazon, Goodreads, or BookBub
Rate/review The Making of Jane Austen on Amazon, Goodreads, or BookBub

IF YOU LIKE TO FOLLOW THINGS
Follow me on Facebook, Twitter, LinkedIn, or Instagram
Follow The Daily Jane Austen on Facebook, Twitter, or Instagram
Follow The Making of Jane Austen on Facebook, Twitter, or Instagram

UPCOMING EVENTS WITH DEVONEY
20 March 2020: Cambridge, England, Laurence Sterne / Sterneana Conference. POSTPONED
2-4 April 2020: Las Vegas, NV: Las Vegas Writers' Conference. POSTPONED