Latest News from Devoney (Austen birthday week edition)
Dear Jane-friends:

As most of you know, December 16th is Austen's 245th birthday. It's just five years until her 250th birthday--or Sestercentennial or Quarter Millennial--which will be the last milestone celebration of her life and writings of my lifetime, the next one being 2067, the 250th anniversary of her death. Depressing but also cool, to imagine that there might still be Janeites then. I'm planning to make the most of 2025. I hope some of you out there are preparing something fun for them, as well as to carry the torch forward in some way? Tell me your grand plans. I'd love to do anything I could to help you make them happen . . . This edition of the newsletter is a quick Austen birthday update, pre-holiday hello and check-in to say, "Here's what I'm up to" and "Hope you're doing okay."

Bake Much?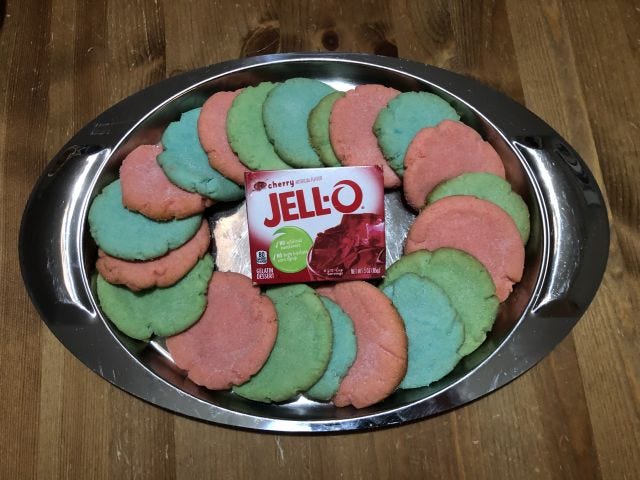 Some of you know that there is a Jane Austen Society of North America Birthday Bake-Off going on. The details are here. Make something Austen related for her birthday? Show it to the world with the hash tag #JASNABirthdayBakeoff and win fabulous prizes! Okay, there are no prizes other than bragging rights. I'm actually a very lousy cook and baker. I tried to make Austen-shaped cookies once, and they ended up looking like Frankenstein's creature. To cheer myself up this week, I did try to bake something--Jell-O cookies. I like them. Our teenage sons have pronounced them weird but okay. These cookies have nothing to do with Austen, although a friend of mine tried to come up with a quotation from her letters about "jelly." If the week doesn't get better, I may move to Jell-O shots, which have even less to do with Regency England, unless you know something I don't know.

Book Bub Deal!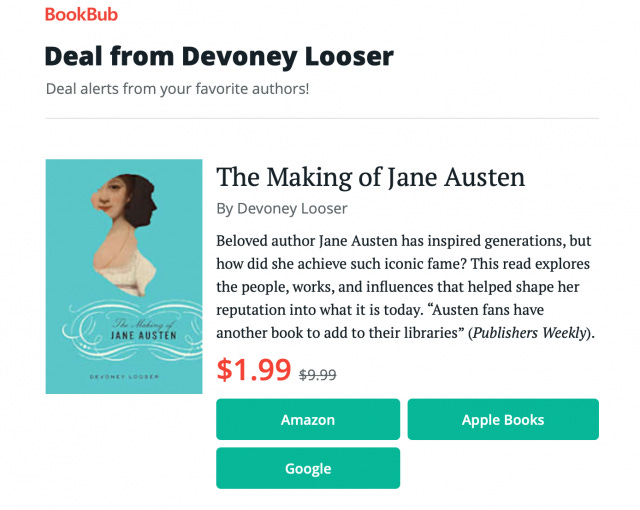 Some of you are BookBub fans already. And if you aren't--then voila! They regularly advertise bargain basement deals on e-books. It's my book's turn to be in the bargain basement this week, with The Making of Jane Austen, which you can get for $1.99 on Amazon, Apple, and Google. They say that it is "Available for a limited time" at that price. I'm not sure what that means beyond "High Pressure Sales Tactics." But hey, while you're on there, follow me on BookBub, if you have an account? I hope that this deal gets the book into the hands of more readers who might appreciate it.

End of Ever, Jane

Sad news. Creator Judy Tyrer has announced this week the end of the Austen-inspired MMORPG (massive multiplayer online role-playing game) Ever, Jane. They are beginning the process of shutting down the server, she's told followers on Facebook, due to a lack of response to a call for subscriptions. Thank you to Judy for her vision for and creation of a trailblazing online gaming world for Janeites. I hope that there are future ways forward for Austen and the Regency era in the gaming world. If you know about some, tell me, and I'll share them?

Last Minute Stocking Stuffer: The Daily Jane Austen: A Year of Quotes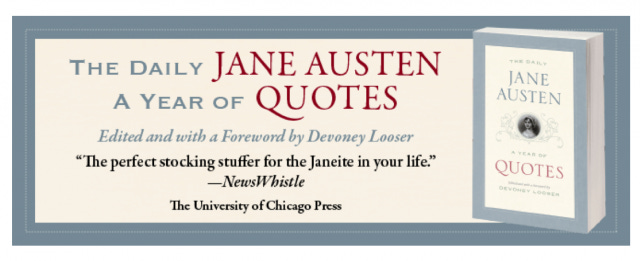 Are you saying to yourself, "Is there anything that might make 2021 better?" Yes, of course. A daily dose of Jane Austen is just what the apothecary ordered. The University of Chicago Press has put The Daily Jane Austen on a 20 percent off sale, using the code AD1881. If you'd like a book plate signed by me to put in your copy of it, and you live in the USA, then drop me a line at devoney@me.com with your address and any requests, and I'll inscribe it however you like (for a gift or for yourself!) and send it along to you. I can't promise it will get there for the holiday, but I'll try to be quick.

Another B+ Coronavirus Essay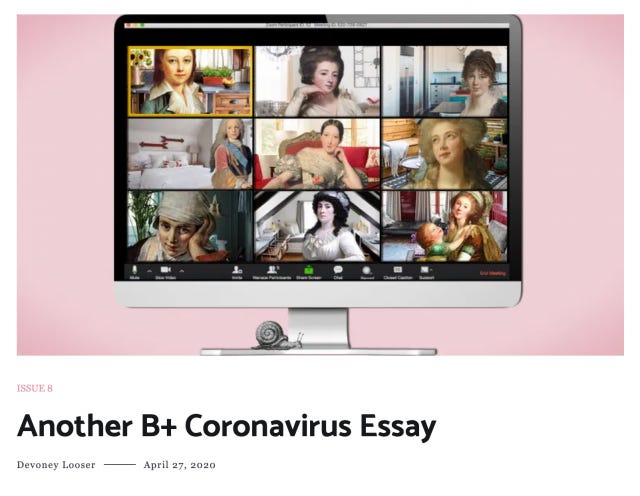 As some of you know, I've had chances to write things that aren't about Austen or Jell-O. This essay I published in April is about Swedish death cleaning, the pains of graduate school, and a brief conversation I once had with Gloria Vanderbilt, told from a pandemic perspective. I was thrilled to learn from the online magazine The Rambling that it was one of their top 10 most-read pieces for 2020. Thanks to those of you who read it way back when, in months ago that now feel like years ago. May you and yours be healthy and safe--or on a path to it--as you read this.

Looking Ahead to 2021

The Great Courses on Jane Austen are coming! The Teaching Company tells me that my 24 30-minute lectures on Austen's life and writings will be out in February 2021. I'll have more information in the new year. They'll be available for purchase in video and audio formats, and I'm told that some public libraries are now carrying subscriptions, too. . . Roller derby life has been on a predictable hiatus in these parts, but I did get to write about it a little bit. I hope 2021 is the year when the sport starts getting even more mainstream coverage. . . I'm also continuing to put the finishing touches on Sister Novelists: Jane and Anna Maria Porter in the Age of Austen, for a fall 2021 release date. I've seen (not yet shareable!) mock-ups of the possible cover, and it's going to be gorgeous. Now I'm working to make each sentence as gorgeous as the beautiful, brilliant Porter sisters deserve. I look forward to talking about them, as well as Jane and Cassandra, at JASNA '21 in Chicago in October--in person, knock on wood--and hope to see some of you there.

So happy holidays--or as I've taken to saying, Masky Christmas! I don't know about you, but I'm definitely planning to watch Shonda Rhimes's Bridgerton. I hope that when we're next in touch, the future's so bright we have to wear very big straw bonnets and shades.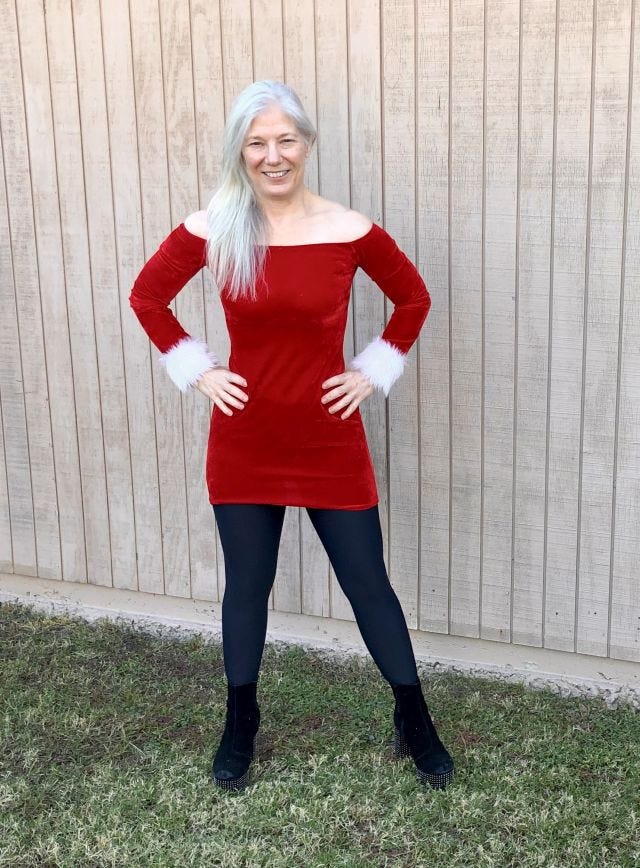 Your humble and obedient servant,
Devoney

P. S. As ever, if you have a moment, and are willing to do me and my books a solid, here's how you can give a shout-out. (And let me know if there are things you'd like help shouting-out to the world, too?)

IF YOU LIKE TO REVIEW THINGS
Rate/review The Daily Jane Austen on Amazon, Goodreads, or BookBub
Rate/review The Making of Jane Austen on Amazon, Goodreads, or BookBub

IF YOU LIKE TO FOLLOW THINGS
Follow me on Facebook, Twitter, LinkedIn, or Instagram
Follow The Daily Jane Austen on Facebook, Twitter, or Instagram
Follow The Making of Jane Austen on Facebook, Twitter, or Instagram

UPCOMING EVENTS WITH DEVONEY
7-10 January 2021: Moderating session, "Humanities in Five," Modern Language Association (online meeting; registration required)
8-10 April 2021: Sessions on non-fiction book proposal writing and author platforms at Las Vegas Writers Conference (online meeting, TBA; registration required)
16 April 2021: Lecture for University of Missouri Colloquium Series (online)
15-17 October 2021: "Sisters and the Arts," Jane Austen Society of North America Annual General Meeting, Chicago (info TBA)